Guest Photographers
- Photosets or videos to Purchase Separately with a Current Membership
I am in the process of inviting some photographers to contribute their photo sets to this new section of the website "Guest Photographers" opened August 2019. There are many great photographers mostly amateur doing it in their spare time, either currently photographing or having done so in the past, all putting their own style on their photography of the athletic male body. I want to build up this new section of the FYM content, it's here for people who want to support that photographer's work as most the money we charge for each set goes back to that photographer. If you are a photographer and would like to explore the opportunity of working with us please drop me a message via the contact page.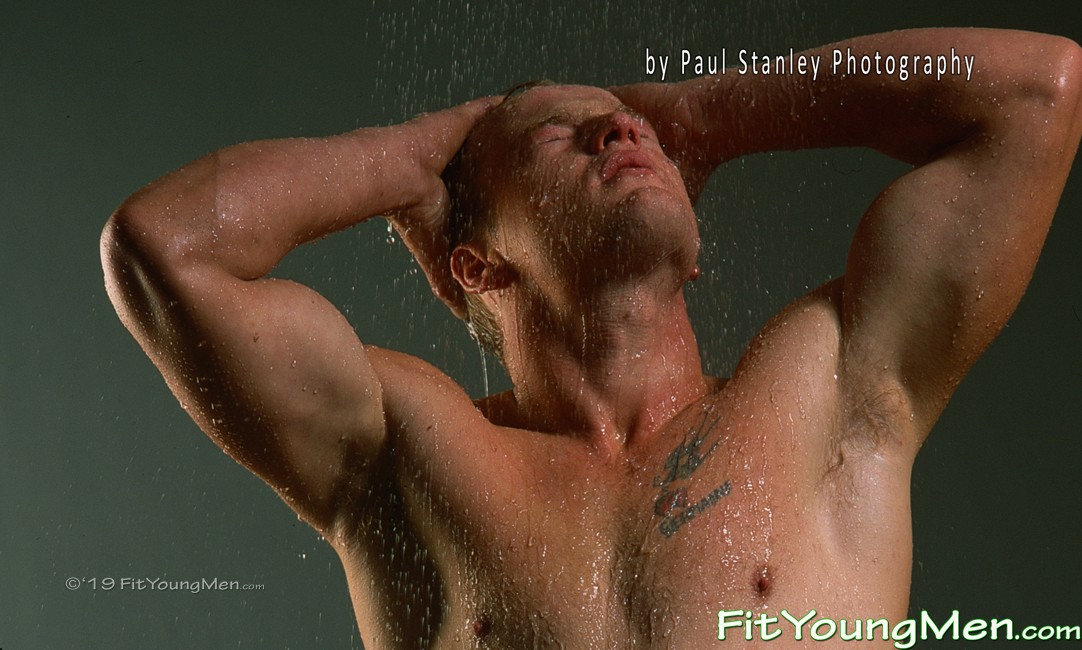 Mike
Tall & Blond Hunk Mike Shows off his Muscular Body
Published 14 Sep 2019
25yo
Gym
Published 14 Sep 2019
I am taking you back to the pre-internet time when photographer Paul Stanley was taking nude photographs of young men, many were published in the Millivres Prowler magazines like Euroboy, Zipper and Vulcan. Paul was a prolific photographer for about 6 years from the early through mid 90's and his film of choice was medium format and sometimes 35mm. About 15 years ago I was introduced to Paul through a mutual friend and since then I have been trying to convince him to let me bring his archive back to life. This is one of his first sets taken in 1991 and the model is Mike a 25 year old blond hunk with a love of leather! Paul photographs Mike with a couple of different themes, based around leather and latex. This was the time when the law forbid magazines to publish erections though Paul had photographed some! Only a handful of these were published at the time so for the first time ever we are bringing you some fantastic photographs by Paul Stanley. Mike wears his sexiest black tight leathers and teases us as he slowly undresses. The photos are rich with artistic lighting that shows off Mike's sexy and muscular body as he poses in his kink as well as naked. The set ends with some seductive shots of Mike looking hot and wet in the shower flexing off his bulging muscles. We hope to bring you many more of Pauls photographs over the comings months, there is a lot of time involved in scanning and cleaning images so I will be interested for your feedback. 77 photographs.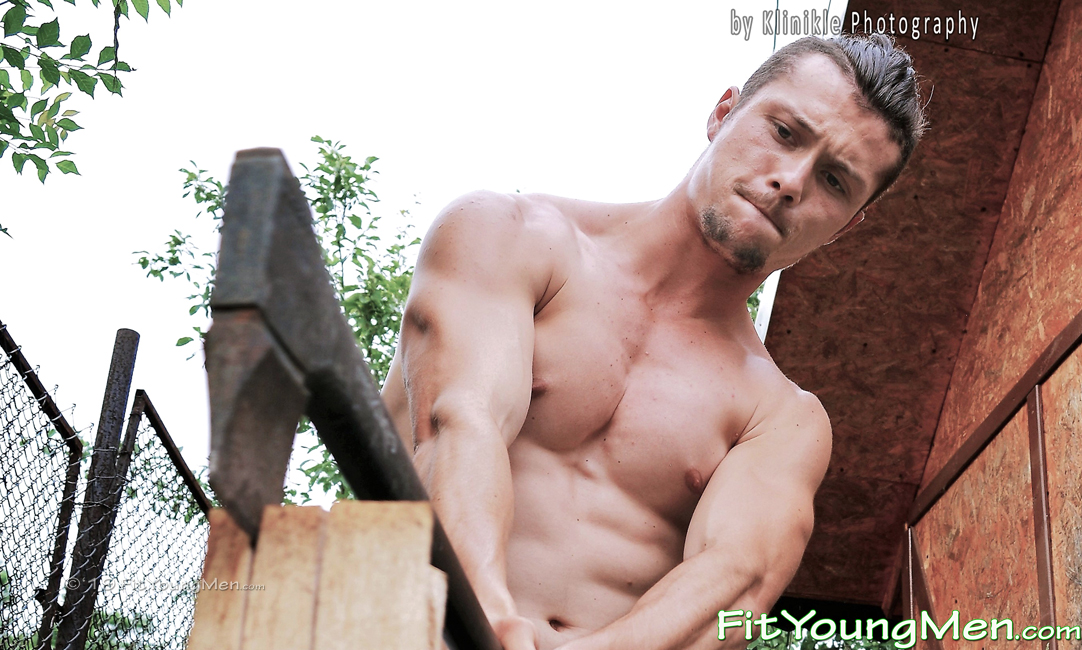 Mario
Athletic Mario's Shirtless Walk in the Woods and Sexy Shower!
Published 13 Sep 2019
22yo
Footballer
Published 13 Sep 2019
A casual walk out into the woods on a nice day, whether it be along the river or out in some tropical jungle (or in this case, an abandoned railway cutting in West Yorkshire) is almost always going to lead to Mario getting at least semi-naked and posing for the camera. He loves to take any opportunity to create something visually stunning and has a great natural talent for interacting with the environment and lighting to make himself look sexy as fuck! As you can probably tell, the first time we used baby oil in a shoot, we didn't really know how much to use and ended up with far too much. All this getting dirty in the wild makes it necessary to have a shower. Mario's confidence with his body shines out and his occasional arrogance just makes him hotter. Enjoy plenty of nudity and stiffness! 224 photographs.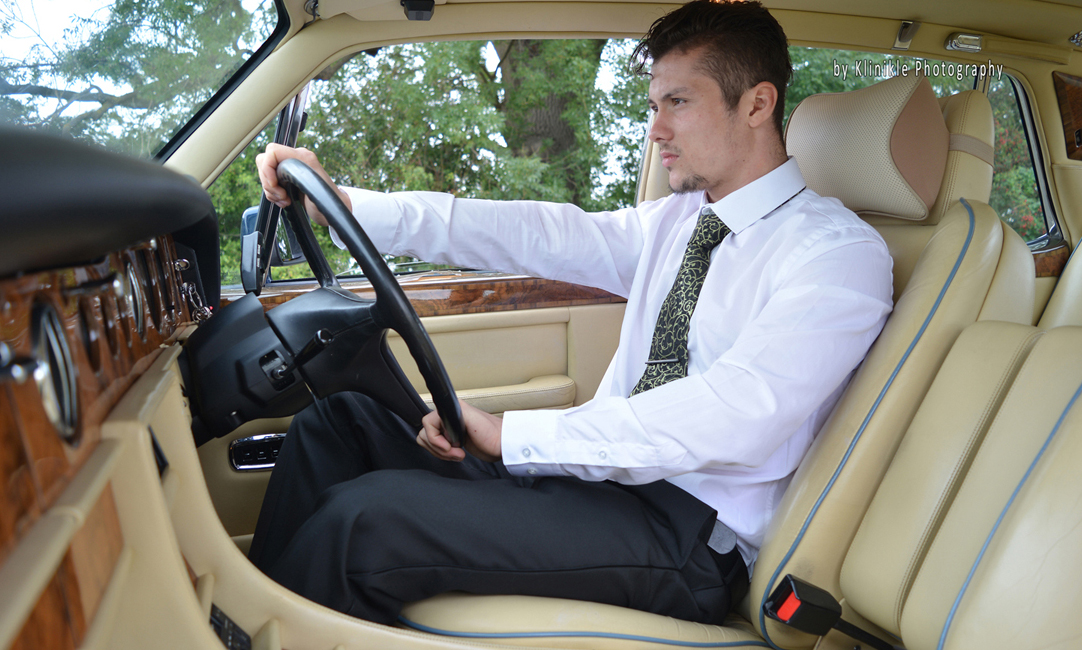 Mario
Young Athletic Lad Mario Shows off his Toned Physique in the Hotel & Out in the Sunshine
Published 9 Aug 2019
22yo
Footballer
Published 9 Aug 2019
Mario had to travel to the coast for a business meeting so it was time to fire up the Bentley. We stopped along the way to get some photos to show his family back home that he was doing well for himself. The meeting was as dull as expected, but thankfully, it was short. This allowed us time to go down to the beach. The sand and tide were amazing, but the weather was not. The rain had kept most people away and the wind was making us think twice about staying longer. Mario being Mario, there was time to pose for a few photos before we went in search of food and headed back to the hotel.

The lighting in the room in the morning lent itself very nicely to some more shots, and as Mario did some research on his laptop and relaxed before the long drive back, I took the opportunity to get my camera out. We stopped of pretty randomly on the way home as the weather had improved dramatically. At one of our stops, we came across an abandoned miniature railway, which was right up my street location wise, so the camera came out again. In the warm sun and with the camera pointing, Mario found it difficult to keep his clothes on. There'll be other shoots! There is just a little frontal nudity in this set.
144 photographs.